Mobit is an alternative antenna-based high-speed fixed internet solution, with a focus on low-income communities. Providing wireless internet service for homes and public areas with a key focus on townships, peri-urban and small towns, Mobit aims to close the digital divide in under-served areas in KZN by providing prepaid and non-contract internet service.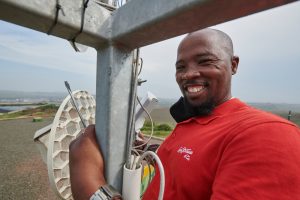 Since 2018, Tongaat Hulett has assisted Njabulo Maphumulo (entrepreneur) to expand Mobit's capacity. Getting access to fibre internet would enable the business to provide faster internet access.
Tongaat Hulett also provided non-financial support by giving Maphumulo's business access to one of the towers which connects his antennas in the Tongaat area to the fibre source in Ballito. 
Mobit's customers include those looking for fast and affordable internet access through a broadband service delivered wirelessly to the end users. Before getting financial assistance, the business experienced a lot of customer churn due to service degradation whenever demand increased. 
Infrastructure growth has been kept at a minimal level to ensure that service quality does not degrade due to insufficient network capacity and lead to customer churn. The business focuses strongly on providing service quality to retain existing customers while scaling up. 
With the financial support received from Tongaat Hulett, network hardware was purchased and installed at PROTEC and an uncapped internet is now provided to the NPO.